Standard system of discounts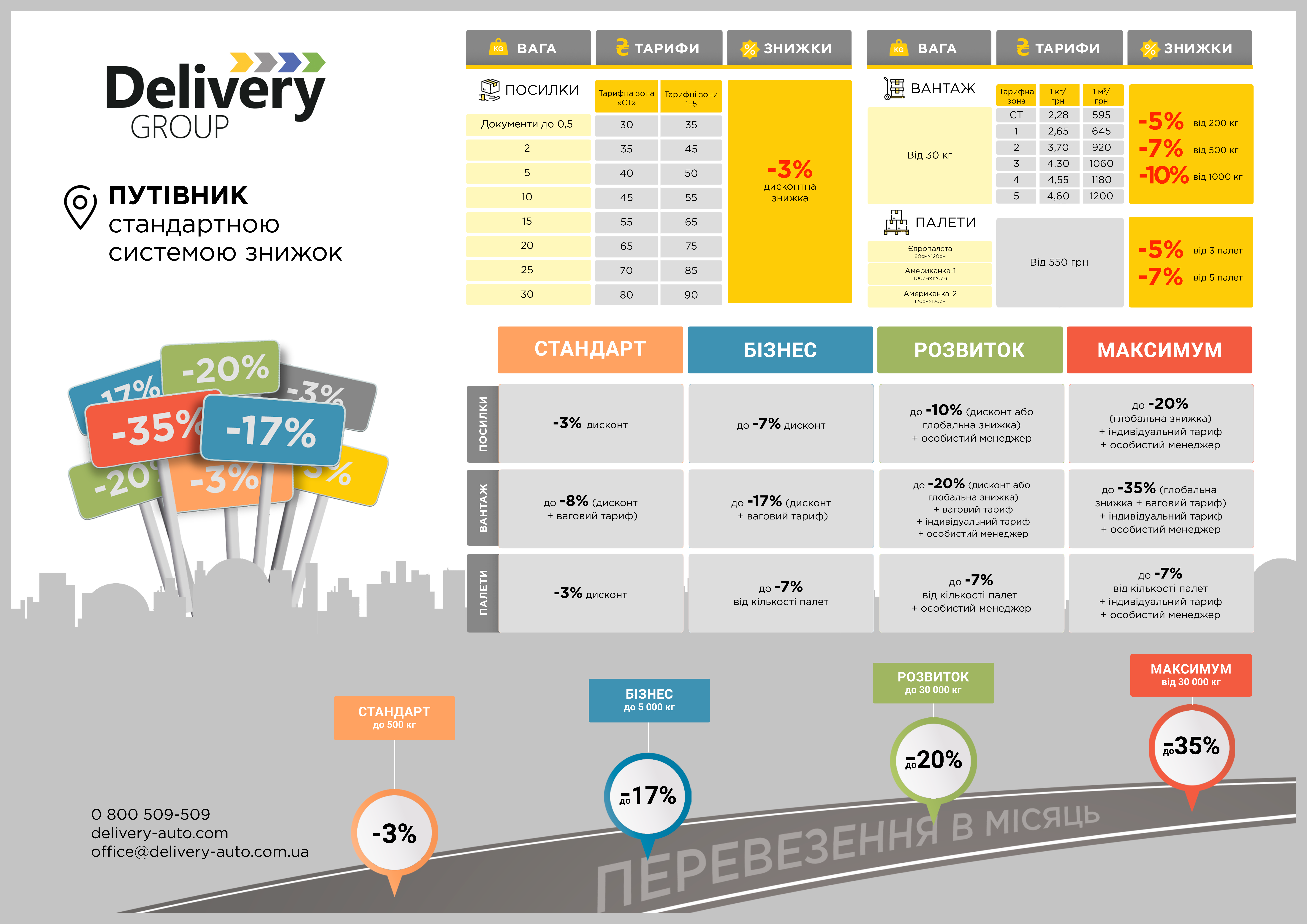 What are Tariff Plans?

Tariff plans are a set of benefits for the client, including reduced transportation prices and personal privileges.
Why do you need a Tariff plan?

A tariff plan is needed to see the real picture of how much it costs a client to transport 1 kg of cargo.

In order to understand how much weight you have transported through the "Delivery" company, what discounts you have applied, as well as individual tariffs, you can now apply for. You will also learn about an additional list of privileges when increasing cargo turnover and increasing the tariff plan.
How is the tariff plan calculated?

The calculation is based on the tariff plan — the client's cargo traffic per month according to the estimated weight. The calculation takes into account the weight of the shipped and received cargo for your main and subsidiary companies.
What does the Tariff plan give to the client?

- discount amount — use of an individual tariff

- fixed price per unit of cargo

- individual price for collection and delivery of cargo

- deferment of payment

- providing a personal manager

- other services as agreed with the company
How to use the Tariff plan?

Some of the options are provided to the client automatically when the cargo is shipped. In such Тariff plans as Business and Maximum, the client has the opportunity to invite a personal manager, agree on an individual tariff, or get a big discount.
How do I check my data plan?
Discount program
In an effort to make the service more loyal to you, and the prices — affordable, we inform you about the introduction of discount cards! If you want to take part in the program, you can get a discount card at any of our offices.
Transportation amount per month

At the discretion of the warehouse

Discount 3%

Transportation amount per month

> 3000 UAH / month

Discount 5%

Transportation amount per month

> 7000 UAH / month

Discount 7%

Transportation amount per month

> 10000 UAH / month

Discount 10%
Rules for participation in the discount program:

•The discount provided to the cardholder applies to the Delivery service of the "Warehouse — Warehouse" type. The discount is cumulative. Therefore, Discount ranges from 3% to 10%. The amount of the discount depends on the monthly order amount.

•To use it, you must show your card.

•Discounts are identified by individual numbers.

•To receive a discount, you must fill out a questionnaire.

•The discount card is the property of the company.

•The discount is valid at any representative office, regardless of the place of issue.

•The Delivery company reserves the right to make changes to the discount program without giving any reason.
In case of loss of the card, the client must immediately inform the company representative by phone (067) 628-47-47 in order to block the lost card and provide a new card.
Attention! Discount does not provide a discount on additional services.