1/24/2019
For the clients not registered in the Personal Area, it is an opportunity to use the advantages of the service that includes lifting a prohibition to issue, electronic processing of the receipts, tracing the history of own sendings and receivings, entering the Loyalty Program as well as ready analytics on own logistics (tab "My analytics").
The registration mechanism for physical and juridical persons is identical.
After filling in the obligatory fields, the client chooses one of the most convenient methods of confirmation:
1. Through SMS/ Viber (enter the code from the sent message)
2. Through the telephone call (enter 4 last digits from the incoming telephone number)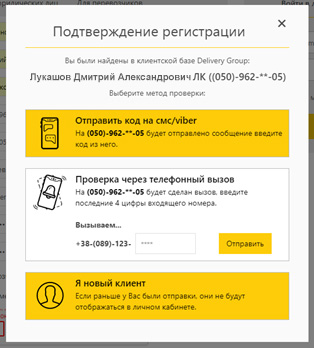 In case if the client has not worked with the company before, or just wants to "reset" their information in the Personal Area, the third option is suggested to choose – "I am a new client!" and confirm the registration through the email. After this the system will create a new account without the history of sendings and receivings in "Delivery" and the information about your Personal Area will be only added by new receipts.