11/9/2017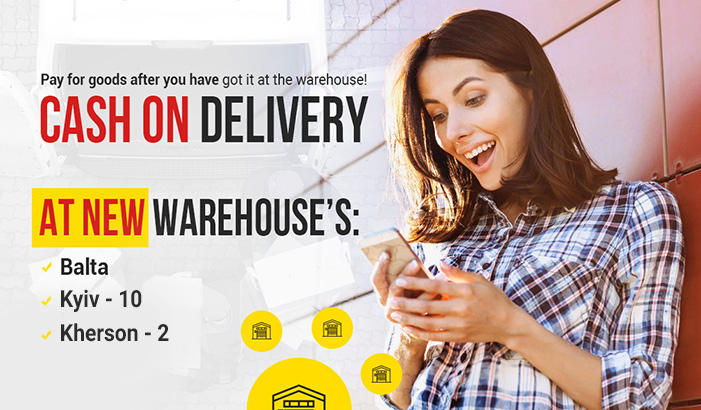 Logistical company "Delivery" is spreading actively work with Cash on Delivery service by cash!
Starting from November 10, the service starts working at the representative offices of the company Balta, Gorishni Plavni, Kyiv - 10, Kherson - 2!
Cash on Delivery service allows to transfer cash for the goods to the clients.
Cash on delivery by cash is available for all kinds of deliveries: cargo, parcels, pallets, tires.
In the future , the company plans to increase number of the offices where it will be possible to use the service and to provide an opportunity for the clients to transfer cash for the goods in other cities of Ukraine.
Let us remind that, starting from July 2016, COD by cash was already launched at "Delivery" on 93 of its representative offices:
| | | |
| --- | --- | --- |
| Bakhmut | Kostiantynivka | Odesa - 5 |
| Balta | Kovel - 1 | Odesa - 7 |
| Belgorod-Dnestrovsky | Kramatorsk | Odessa - 4 |
| Berdyansk | Kremenchuk - 1 | Pavlohrad |
| Bila Tserkva | Kryvyi Rih - 1 | Podolsk (Kotovsk) |
| Bolgrad | Kryvyi Rih - 2 | Pokrovsk - 1 |
| Boryspil - 1 | Kyiv - 1 | Poltava - 3 |
| Brovary - 1 | Kyiv - 10 | Poltava-1 |
| Cherkassy - 1 | Kyiv - 12 | Priluki |
| Chernigiv - 1 | Kyiv - 14 | Rivne - 1 |
| Chernivtsi - 1 | Kyiv - 2 | Rivne - 2 |
| Chervonograd | Kyiv - 3 | Sambor |
| Dnipro - 1 | Kyiv - 5 | Sarny |
| Dnipro - 2 | Kyiv - 7 | Severodonetsk |
| Dnipro - 3 | Lozova | Shostka |
| Dnipro - 4 | Luboml | Slavyansk |
| Enerhodar | Lutsk - 1 | Sumy - 1 |
| Gorishni Plavni | Lutsk - 2 | Svetlovodsk |
| Ivano-Frankivsk | Lviv - 1 | Ternopol - 1 |
| Kahovka | Lviv - 3 | Ternopol - 2 |
| Kamenec-Podolsky - 2 | Makariv | Uman - 1 |
| Kharkiv - 1 | Mariupol - 1 | Uzhgorod |
| Kharkiv - 4 | Melitopol | Vinnitsya - 1 |
| Kharkiv - 5 | Mykolaiv - 1 | Volodymir-Volynskiy |
| Kharkiv - 7 | Nezhin | Voznesensk |
| Kharkiv - 8 | Nikolaev - 2 | Vyshneve |
| Kharkov - 6 | Nikopol - 1 | Zaporizhzhya - 1 |
| Kherson - 1 | Novohrad-Volynsky | Zaporizhzhya - 3 |
| Kherson - 2 | Novovolynsk | Zaporizhzhya - 4 |
| Khmelnickiy - 2 | Obukhov | Zhytomyr - 1 |
| Khmelnickiy - 3 | Odesa - 1 | Zolotonosha |
To receive more detailed information about the service "Cash on delivery", you can get to know here: